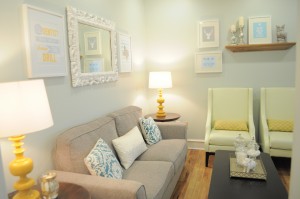 When you are here, we want you to feel at home. We want your dental experience to be less like a dental experience. We invite you to visit our relaxing and comfortable waiting area where we offer  refreshments and beverages while you wait. We also offer complimentary Wi-fi.
We have a great five-operatory clinic area and two surgical suites, all equipped with the top-of-the-line dental equipment to give you the best possible dental care. We have a private consult area where you can fill out your paperwork and discuss treatment plans.
We offer a complimentary Comfort Menu complete with memory foam neck supports, light blocking sleep masks, warm towels, and much more.
We look forward to greeting all of our new and existing patients with a warm smile and making you feel right at home.
You will quickly see what sets us apart.